About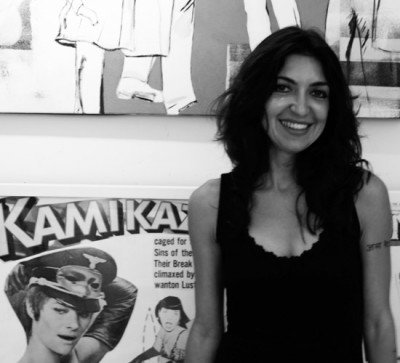 Born on Lesbos, Greece, Eurydice is a multimedia artist & writer whose body of work is infused with a consistent ideological & aesthetic study of female marginalization & objectification, & the dualisms of mind vs. body, or repressed vs. uninhibited sexuality on daily life, as these are influenced by history & displacement.
Eurydice has a BA in Fine Arts & Creative Writing from Bard College, where she studied with Roy Lichtenstein & Robert Kelly; an MA in creative writing from the University of Colorado in Boulder, where she studied with Ed Dorn & Robert Steiner, & with Allen Ginsberg & William Burroughs at Naropa; an MA & an MFA from Brown University where she studied with Jack Hawkes & Robert Coover. She later taught creative writing at Brown as an adjunct professor.
She has published books with Scribner (Satyricon USA: A Journey Across the New Sexual Frontier), Virago Press (f/32: The Second Coming), Richard Kasak Books, and the Fiction Collective (f/32). Her writing has been widely translated, taught, & reviewed. She has been published in many literary magazines & anthologies. She has also worked as an investigative journalist & staff writer for national magazines such as Spin & Harper's. She was a sex advice columnist for Gear magazine. She is also a comfortable, engaging public speaker & lecturer. She has appeared on national & international radio & TV, incl. C-Span, Sky Channel, CBS, ABC, NPR, on magazine features around the world & in documentaries. She has given numerous readings & performances in bookstores, theaters, universities, churches, & at varied spoken word slams & literary panels.
Her artistic work has included painting, drawing, film, performance, installation. It currently focuses on embroidery, an ancient feminine craft that brings together her Eastern & Western heritages. She has won international recognition for her embroidered tapestries, & large flag & paper collages. Her work has been presented in numerous solo & group exhibitions in Europe and the US. In 2010 she had a ten year retrospective in Miami Beach Art Basel. The history of the ineffable representation of the female nude in art from the first artistic scratches on cave walls to now, & the intellectual & personal disassociation that results between a woman & her body, & the quest to turn woman from ideal eroticized object into subject, constitute Eurydice's recurrent themes. Eurydice's avant-garde art & writing are steeped in Greek philosophy & history & connect her with countless generations of silenced women for whom she hopes to speak.